Friday March 16,2001
Yea I know the site is turning into shit, and needs work. Well I know you dont wanna hear that buts its true. We are playing this sunday which will be the "kick-off" to the 2001 season. Me & Marc are gonna be the only ones from Shockwave playing, the others had previous plans. We are going to be playing against some friends from school, just for fun in the woods.
Wednesday November 1, 2000
Changes, changes & more changes....thats what needs to be done, to have a winning team. The team has been making all kinds of modifications. The biggest problem I have as a captain right now is rearranging the roster, as a captain it is my responsibility to make sure, we have the absolute best possible team members playing in the tournaments, because the more wins we get, the better the sponsers. As far as the tournament goes, we got there almost an hour early. The snow hadn't started to fall yet, so we walked down to walk the field, it was smaller then my backyard, with horrible cover, the pictures on the web site were of the field before they moved it. We decided rather then to stay, we left. The level of competition looked fairly weak. We spoke with one team, where only one of the players had ever played before. We figured we would stay anyway but then the owner came to us and said that we would be playing in the woods. We cant possibly get practice by playing woods so we left and went to k5's field in huntington. That was alot of fun, and we got a good amount of practice until the snow started coming down, and everyone started breaking mad paint.
Thursday October 26, 2000
Back and better then ever is Team Shockwave. We currently did some renevations to our team including adding Bob Nolan to our roster, Bob's combination of skill and good communication skills makes him a utility player. Coming up on October 29 is Eastern Paintball's 2nd annual Halloween Havok. This tournement will have a free entry fee, and there will be prizes. Teams here will be playing merely for pride & practice. Well stayed tuned to our site to see the results of the tourney.
Sunday October 1, 2000
Sorry I haven't updated in a while, currently I need to update my team, some players were thrown off, I need two players to compete in a five men, but three players would work so if anyone knows anyone drop me a mail, we have been practicing alot, we soon will be ready to take some first places, we are working on team communication, and working together. As singles we tower, but as a team we need alot of work. We recently have been training a new player from seymour, kyle is a strong player, I'll add him to the players page soon enough Well theres your update. Check back next week for some more.

Thursday July 27, 2000
I sincerly apologize for my lack of updates on the site, it will no longer go without updates. Lots of good things have happended since the last time I updated, First off my team has picked up some new players with some great skill. My team now has also updated our equipment and are ready to start playing lots of tournaments. We still are looking for a good sponser however but that as with everything else will come with time and practice. Since my last update we have played two tourneys, one was all woods and ran by local friends..We placed First, but it was more rec then tourney. Last Sunday we played in the Prospect paintball Tournement, a fun tournement but the fields were bad. They were "changing" the fields, when my team got there the fields were "finished" and we couldnt walk them. The owners response was "we dont want anyone to have an unfair advantage". After the tournement began, two hours late may i mention. It was mostly a game of who could lay more paint. There was a total of three fields.Field three was the best. It had a few plywood barriers and some bare skids. Fields One & Two were horrible. Field one had no cover at all. We were laying down to avoid being hit at times. Field Two the "Rock Field" had one large rock in the center of the field.My only complement to the field was their strong enforcement for safety, barrell plugs were a must, I like to see that. We placed 6th in the end. My team played well, but our communication did improve. Spade & Seven played great. But Spade had some gun problems reducing him to use a rental. This hurt his game alot since he is usually great for accurate cover fire. I had alot of Flag Pulls, and we had a good amount of flag pulls. We had some mistakes which cost us. For example chronograph penaltys, on the rental hurt us along with a bad call on our first flag hang. The tourney ended off great, we made good friends with the winning team First Knight, they are a Three man team based out of Lyme Connecticut. Check out thepics pagefor some pictures of our field and of First Knight. They wear all green 32 Degrees Jerseys and use a combination of Cockers & Twisters. Their skill is astonishing, I had the privledge of watching one game, they had the Kills, Pull, and the Hang in less then a minute. They have been playing for over five years, and have great Communication. My next update will be a full transfer of the site to hopefully paintball2k.com I'm now only waiting on the cash from my teamates to do it. Besides Tourneys, my team has became alot better, some of the newer players Lock-On, Spade, & Blitz have improved greatly. So far all we need now is to get everyone using nitro, this way fall tourneys and chrono penaltys wont be an issue. I'm getting a new system for my cocker, I think I'm gonna go with a 68ci 4500, brand is still unknown. Well I'm gonna finish uploading the sites updates now, be sure to check out the pics, news, and info pages daily because updates are being added hourly.


Thursday March 2, 2000:
Today I'm Starting the major site updates if you have any suggestions please email me. Shockfest 2000 is coming up basically its gonna be a whole day of playing hosted by Team Shockwave, check back daily or email me for details on this upcoming event.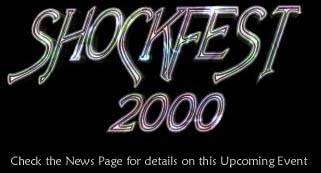 Wednesday March 1, 2000:

Sorry I havent updated the page in a long time that wont be happening again as far as news on upcoming events theres alot. for starters we have been issued a challenge from an X-team member (X-shot) apparently hes interested in scrimmaging myself, and two of our players with two of his friends. We will accept any fair challenge. This should be a fun day of paintball coming up probably in Mid-March stay tuned for information on dates & times. Hey you never know we may have an edition to our squad
Sunday January 9, 2000:

Wow I'm still out of breathe lol. We played at Frank's Field in Shelton. He owns K5 Arms in stratford. The refs did their jobs mostly and made good calls for the most part. The velocity was great we clocked in about 260 but nothing over 270. This field had good cover with its plywood bunkers. One thing is for sure The players of Team Shockwave who were there did great. Dashocker(jimmy) ,Maverick(myself), & Jesse did sweet. The field was full of cool tempered people ready to play some cool rec ball. For $10 for all day thats very fair. One thing is for sure I was using my Tl, Jesse his Se and jimmy his 99 cocker. We did awesome. We mostly went out together to play and we played well with each other.We met up with a kid named Steve. Not only did he play well he had a nice gun too. Steve owns a new micromag with nitro duck carbon fiber wrapped bottle. He in interested in playing for the team so I have to introduce him to the other plays who wern't there today. If he can get along with the players which I'm sure he can then he will possibly be with us. So far the roster is what you see on our players page. I liked steves stlye from the beginning he approached me and said "Your a team player you saved my ass twice out there." I liked his team playing stlye so we got along well. Another cool person I met was a kid named Matt from Monroe. He has a five man team and we are combining them to play in tourneys this spring.Once again check back soon. Also check the pics page soon enough we will have pics of the other fields up.
Sunday January 2, 2000:

Today was a great day to play Paintball. Granted we didn't have all of our teamates on hand but myself & Sniper 7 did awesome we got the most kills on the field. We went out wearing our Real Tree Camo and were virtually undetectable. The battle got hot mostly and was fast paced. Two members of The Spaz Crew were here today along with some friends who have been calling themselves a "team" they mostly have tricked out F4 Illustrators. I hope they start a team they are real cool to play with they are fair & have skillz. We also took some pictures of this spot. I think we are gonna call the "factory" quits. Not only does that spot lack cover and size its mostly ran by a kid called Cookie. Hes the Former Captain of The Spaz Crew who I originally played paintball with. I thought he was the best of the best but recently I learned differant. As it turns out hes been caught cheating. I goggled him and splashed him twice and he wiped it off. I'm sorry but I can't play with dishonest people so I'm gonna tell him hes no longer welcome to play with us. Who is getting better when you dont even know if someone is playing fair. Well check back soon for the new pictures and some current news updates on Team Shockwave.

Saturday January 1, 2000:

This sunday we are going to have some members of the spaz crew on hand and some members of Team Shockwave. We are going to mix up teams and play on a friends field which consists of mainly natural woods. Once I get my hands on it of coarse I will be turing it into a speedball type wooded field. But what can I say ever since I wore a Rave Jersey I guess I became a Speedball Player that day... Once again check back soon to see all the upcoming events and information on Team Shockwave.
Sunday December 18, 1999:

well to keep all you fans up to date today we are just practicing with some teamates doing shooting drills, scrimmaging, e.t.c. The only people which will be present are members of Shockwave. Well ill get those pictures on soon need to develop film.

Sunday December 12, 1999:

O.K wow what can I say about today. Well when we planned it, everything looked great. We had people going down extra early setting up barriers and then everyone showed up and fights broke out. One member of Shockwave couldnt come and another key player left after a dispute with a member of the Spaz Crew. I myself stayed for three games and considering it was only me & Dashocker with some Robbie Newbies against The infamous Spaz Crew things got ugly quick. DaShocker and I held our own but the Robbie Newbies got blasted quick. Some dispute over hits and velocity caused these games to be not so great. I'd have to say I wasted paint and dont think it was worth it. As far as the spot (Pictures) I feel as it stands now the teams our unevenly matched with the starting points and mobility. In order to make this spot the cool place it once was we need some more barriers and rules put in place. As for plans in the near future we are setting up a scrimmage with The RaInMakEeR's a local pro team sponsered by Jt Usa. Other then that we will just be practicing getting ready for the spring and saving for upgrades and new equipment. As always check back soon to see new and updated information on Team Shockwave.

Sunday December 5, 1999:

Today we took on the members of the Spaz Crew it was a 5 vs 5 showdown set in an urban type field. Team Shockwave held their own against this five man veteran team who have been playing since 1995. As it stands we may choose to welcome "Spade" to our team as a player in training. He didn't get lit up too bad considering it was his first day. Well check back soon to see whats new with Team Shockwave.

Back To Main